Kuta Beach
I arrived in Bali at the main airport. They say it's Denpasar Airport, but really it's sortof south of Kuta on the map here. I changed a bit of money to get by; you know the rates are ripoff unless you go to a real bank. The rates in the airport are always bad. So I converted a small amount of money to tide me over till the daylight.
Finding a hotel is no problem. The taxi drivers line up and each of them "knows" of a hotel to take you to. Of course those aren't the cheap hotels; those will take some shopping around. I wasn't in the mood and it was after dark.
I had studied the streetmap of Kuta beforehand, but I was quickly lost as the taxi driver whisked me through neighborhoods jam-packed with vehicles and pedestrians and motorbikes and tourists and even a traffic light or two. Traffic was slow and I was impatient to get dinner. I told him I wanted a place near my cybercafe.
The hotel he was taking me to, he assured me it was "close" to the cybercafe. When we got there, he gave me his business card and sure enough, he was really working for the hotel, with some title like "airport representative" or something. In other words, he scraped up tourists at the airport.
And as you might expect, it was tourist prices. I decided at the time that I would just stay a night and go somewhere else the next day. This place cost $35/nite, price quoted in US dollars. Any time you see a price quoted in US dollars, it's a ripoff designed for tourists.
It was late and I figured I had to go out and find something to eat. I wandered down the street in the direction I thought the cybercafe was in.
All the books say to watch out for the street food. But I had decided long ago on this trip that I wanted to have fun, and my stomach was coming with me. A lot of eating places were closed, but there were these guys by the side of the road with food carts, with barbecues billowing smoke as you walked by.
In one cart, this guy was cooking sate (sa-tay), like shiskabob meat on a stick with this spicy peanut sauce. "Hey man you want sate? fife tousand." He had some sort of charcoal chips in a metal trough, it was so dirty it all looked hhomemade, but other street vendors have the same thing. And he's hand-fanning the chips, they get really red-hot and the meat sizzles.
Watching him work was fascinating. He was concentrating, fanning the charcoal with the intensity of a runner. And every minute I thought he was done, but he wasn't. He just kept on fanning them, and turning them, and sometimes spreading more sauce on them.
I bought a handful for some small amount of money. They were excellent. I bought some sort of drink from the guy next to him who had a drink cart. A good meal and it was all like a buck.
I wandered down the street. I found a tourist bar that didn't look too intimidating. I later saw how Kuta was a second home for a lot of drunk Australians, not to mention a large number of European and American tourists. It was busy and fun, but I got tired of it after about four days.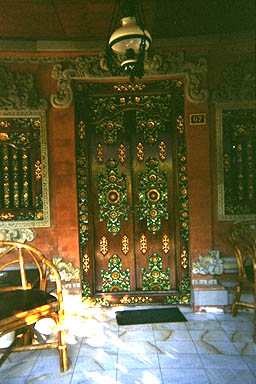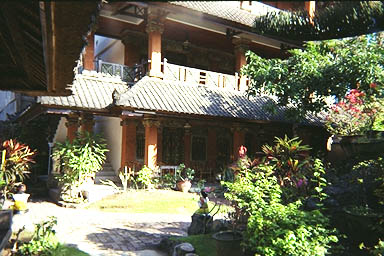 When I woke up and looked at my hotel, it was really pretty in the courtyard. Here was the front of my hotel door.


Touring Kuta Beach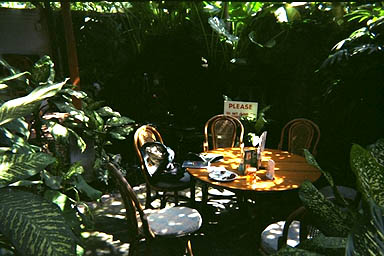 My first day in Kuta I just spent wandering around, getting to know the place. I like to do this when I first get somewhere so I'm not totally helpless and I can find where to buy things and what not.
I stopped in this cafe on the way to the cybercafe. I wrote a postcard or two. You can't see it in the shadows but there's a little fountain with green covering everything. This is in the middle of bustling city, here.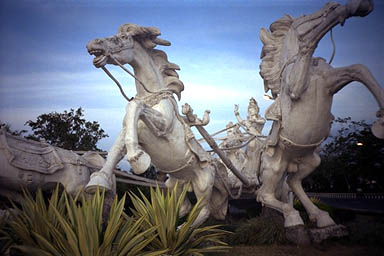 They have these statues all over at big traffic circle intersections.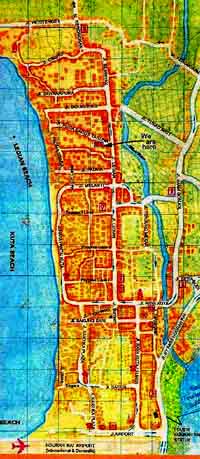 Kuta Beach is a tall skinny town in the thin part of south Bali. Along the west side is the beach (before civilization arrived) was probably one of the prettiest beaches in the world: white sand, lots of surf.
OK now lay down a street parallel to the shore, about a quarter mile in. It's called Legion (Leg-eon). Jalan Legian means "Legion Street" in Indonesian; Jalan is frequently abbreviated jl. Fill it with stores, hotels and eating places catering to tourists. Now thicken that out to cover a network of side streets reaching from the beach a mile inland.
It's big and noisy and, if you are in the right mood, can be fun. If you want to rent a car or do other touristy things, it's also a good place; it's well connected.
I found my cybercafe and I did some email:
---
to Joie, the cybercafe webmistress, June 20


> > where I'll be:
> >the island of bali (i know about bali@cyber cafe)
> 
> OH THIS IS WONDERFUL.  You must go there, it is owned by my friends Haaris
> Chua, and his wife Nina.  Super people, originally from Singapore...very
> well-educated, classy people.  Wonderful, please give them both my very best
> regards...and a big hug!!!

oh I guess Nina was probably the one who fixed my machines earlier...
she's gone.  I'll be back here.  

OK, Haris i guess came by.  And I pointed at this email, and your
address, and said, hey, she says Hi!  And he recognized your address and
said, you must be that guy!  Boy, I'm getting famous already.  


---
friend, June 20

Dear Friend:

I'm now in Bali and I'm at the Bali @ Cybercafe, the easternmost
cybercafe in the world, at least as far as I can tell.  Well, oops, as I
was walking along jl. Legian, the main tourist drag here in Kuta, I saw
another place that said it had internet access.  Looked like one or two
computers inside.  I guess that's about a quarter kilometer further
east.  I'll have to check that one out later.  There's all these
cybercafes around that just arren't listed anywhere.  

writing this offline.  They had some network problem; couldn't get
online.  So they fooled around for ten minutes, and finally reported
that when this guy gets off his machine, they can reboot it and then I
reboot it and it'll be OK.  

Well, ok, so now I'm on that machine, the others somehow aren't
conne3cted.  There was a sound of a modem going on to make the
connecction.  We're in the thhird world here.

The most unreliable cybercafes I went to depended on a dialup connection on a PC compatible. In Indonesia, however, there was pretty much no other kind.
---
Jim Gagnon, June 20

> > greetings from singapore!
> 
> Hi!  How was Hong Kong?  


they are all optimistic about the handover.  It's sad.  

>How's Greg?  

haven't intercepted him.  In one week.  But then there's no cybercafe in
sulaweisi.  that i know about.  I'll have internet contact one day
before I see him, and then nothing for two weeks.  

>Having fun?

ho boy.  On bali right now.  just got here last nite and still orienting
myself.  A rooster is crowing.  I'm having fun and I'm still in the
tourist hell area.  Gotta get out to the beach.  Gotta get some cash.

The Beach
I ran some more errands, and then asked around how to get to the beach. The way you go, I don't think I could remember it, but the only way seems to be through obscure little alleyways. Except that they all have a continuous stream of people coming and going through them.
I went surfing for a day. Real surfing, not web surfing.
One time I was on the beach and a woman was trying to sell me a hat. I already had a hat that I had gotten in Saigon and I showed it to her. It was an "authentic" Viet Cong field hat, wide brim all around. I'm sure that during the war, they manufactured lots of them that fit my XL hat size central european skull. She was about as good at English as any other street vendor.
Where you get dat?
I got it in Saigon.
Saigon? Where Saigon?
Oh, you know, Ho Chi Minh City.
Where dat?
That's in Vietnam. You know where Vietnam is?
She didn't know. I quizzed her, country by country. She knew Singapore and Malaysia, but beyond there things got hazy. This seemed a little hard for me to believe, but I guess most of these people never can afford to leave the island. Maybe they just never learn geography; maybe they have no need for it.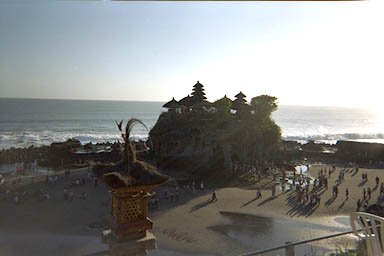 Tanah Lot
Tanah Lot is a temple not too far from Kuta Beach. I had a driver named Ketut, he drove me out.
On the way, there was this bridge; seems like most bridges are this way in Bali. There was a statue on each corner, dressed in checkered cloth like I'd seen in my hotel. In the backgrond you see rice paddys.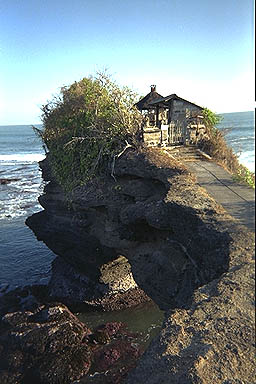 Up the coast from Tanah Lot was this cliffhouse. Wild. The whole area had interesting old buildings and structures. But in the other direction is a modern golf course.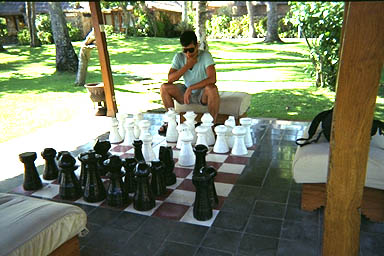 Along the way, we went to the grounds of this hotel. They had a big chess set and lots of more-interesting-than-average stuff in it, but it wasn't the most exciting stuff I'd seen on the island.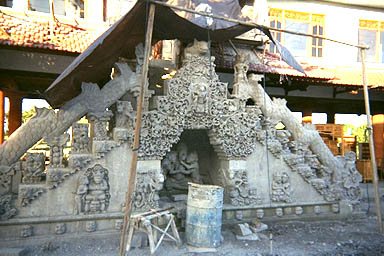 Later in the day, we went looking for carvings and art. In this courtyard, they were carving this staircase. These guys carve sculpture the way people lay bricks in the West.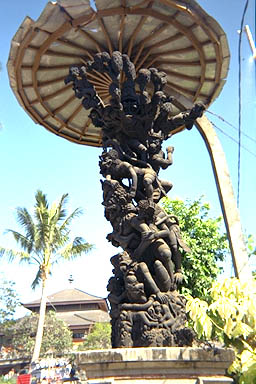 I wanted him to take me to this big arts exposition that was supposed to be happening in Denpasar at the time, but we ended up going nowhere. I did run into this statue in the middle of Denpasar, though. Never really understood where we were.
---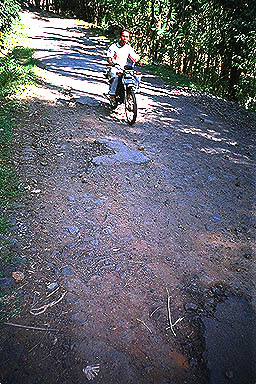 East Bali
One day, I went for a drive around the southeastern coast of Bali. I intended to go up the coast. Unfortunately the road was very rough, as you can see by this picture.
As in many places in Bali, the asphalt was destroyed, leaving the road even harder to drive than if it had been dirt.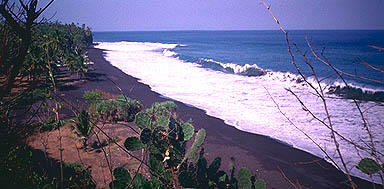 The scenery was really great, though. It was rustic and unspoiled. This is a black sand beach. Black sand is from lava; white sand is from coral.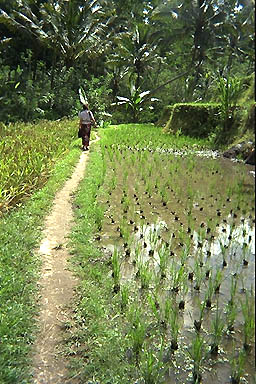 These guys were in a warung hanging out playing some game, maybe a card game.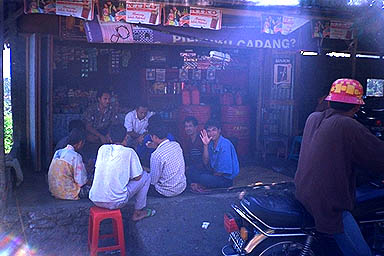 ---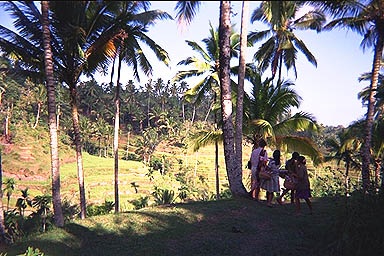 Tourbus
I got desperate at one point and got a tour bus.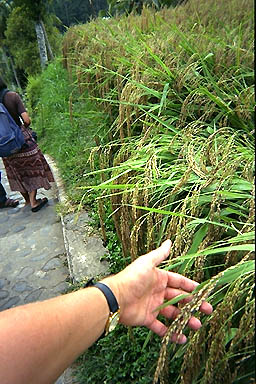 The tourbus showed us some rice fields.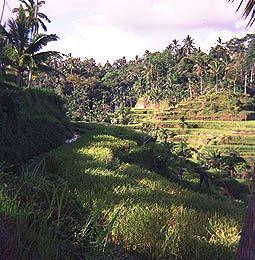 Well ok, many of these were taken at different times. Please don't attribute all of this to one tourbus.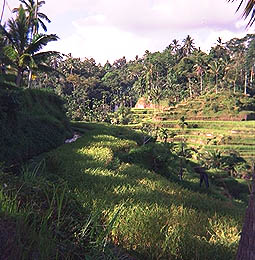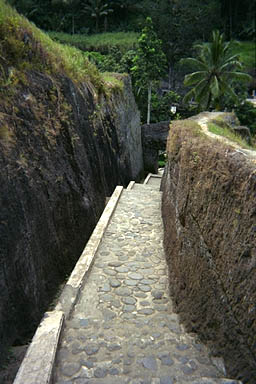 We also saw various temples and stuff.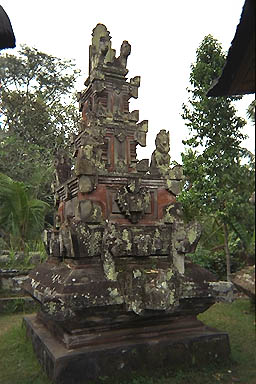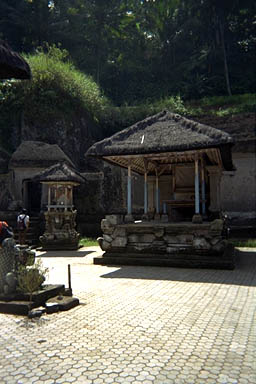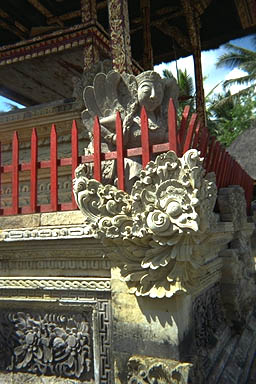 ---