Water Palaces
In East Bali, there are two things called "water palaces". From the description, they sound pretty similar. But you go there and they are completely different.
You get the distinct impression that they are centuries old, but in fact they all were built this century. Between earthquakes and political events, both were damaged over the years. They were originally built by the same local king.
Ujung Water Palace
This one is south, along the coast. You can see the sea beyond the palm trees on the horizon.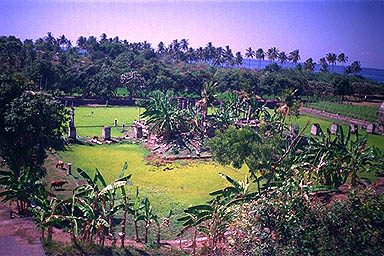 When you get there, this is what you see. The pools are supposed to be filled with water, and there's supposed to be bridges to the buildings in the middle.
The area is big on livestock grazing these days. The large green areas are marshy and you don't want to walk on them. But you can climb down and walk along the where the bridge is in this photo, on the left side. Here's what you see: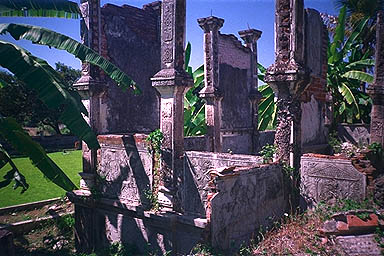 The water palace is mostly ruins, destroyed in the quake of 1979. Unfortunately there hasn't been enough money to keep it up.
There's almost no tourists there. One guy I ran into from Texas, with a woman who looked native.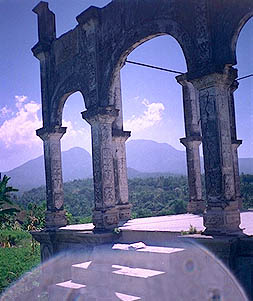 This arch is on the hill and a proud reminder of what it once was.
I got lunch from a street vendor. Although you associate these people with the city, here out in the country was this guy with a push cart, serving fish ball soup. A thousand rups and you had a tasty bowl of soup with little green onions in it and everything.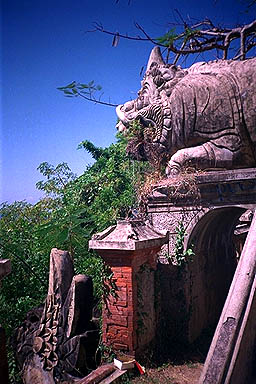 This strange animal was further inland on the side of the hill. There were walkways going all over.
When I got to here, I was still a bit new to driving the car around on the left side of the road and all. I was looking for it, I found it, but said to myself, there must be more than this. So I kept driving around the corner, and there was nothing. Well, this is it.
So then I tried to make a quick U turn in the middle of the road. A motorcycle was coming and I got a bit flustered disoriented and naturally drove off on the LEFT side, the wrong side of the road, and this motorcycle was coming right at me. Fortunately nobody was going fast. The motorcycle driver called out, in english that was good enough, "fuck you!". He had immediately sized me up and knew what to say in what language.

Tirta Gangga
This water palace has actually been restored into a tourist attraction.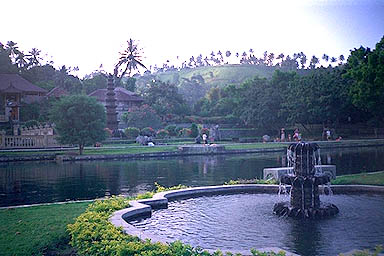 Pools of water and fountains are picturesque.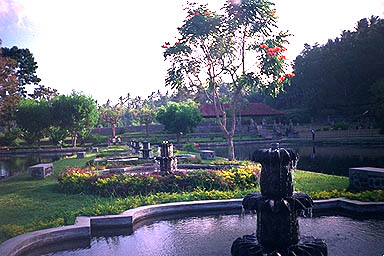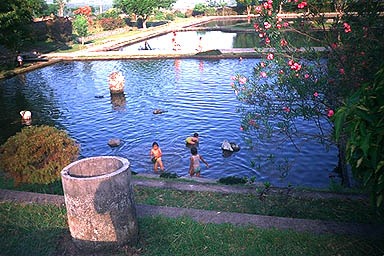 They let people bathe in the pools. I found very few westerners doing so, but there was one couple from Australia.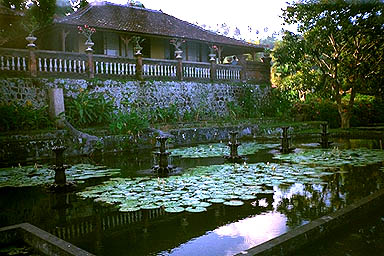 There was a significant tourist business there. You could stay in a hotel overlooking the water palace.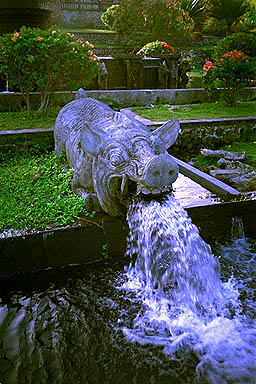 The fountain thing was a big theme.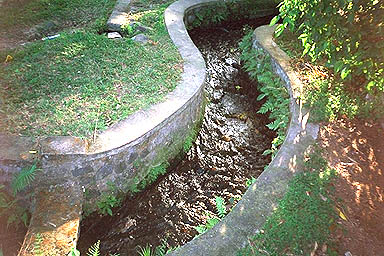 Water was transported around by canal. Here's one that takes an S-curve.
In fact canals were big in this part of the countryside as there were lots of ricefields. To grow rice, they have to flood fields and drain them in different times. Therefore water is controlled as it flows down the side of the hill. (This area is actually sortof the foothills of Mount Agung, which I climbed)