Ubud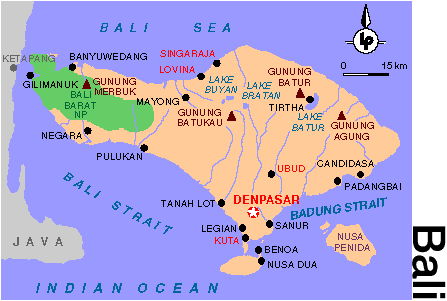 When I was in malaysia, I met a couple who told me, when I get to Bali, go straight to the city of Ubud (red, central-south). That's where you want to go.
Well, I got to Bali and the easiest place to go is this tourist trap beach area named Kuta Beach (red, south). It's huge and sprawling. I spent four days there. Then I went to Ubud. And I realized that that's where I should have gone all along. In Kuta, I met a driver who drove me up to Ubud the first time I went there. He said he knew of a place that was good to stay. He took me to the Saggitarius hotel.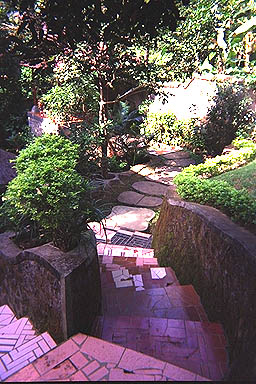 This place may have been a bit better than the average place on the street, but my experience was that it was rather typical. But what was really pretty was the approach to my room. I was in the farthest room, all the way in the back towards the stream.
You go down these stairs... On the way there's this pagoda that maybe they use for some sort of Hindu thing.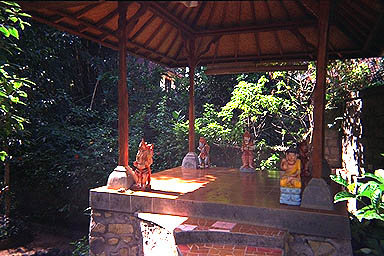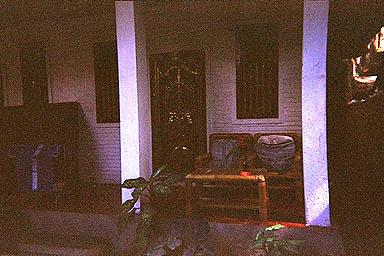 This is the door to my place, taken in conditions that I thought had sufficient light and geometric integrity.
Saggitarius is on a long road in Ubud named Monkey Forsest Road. There's a native language translation of that, but everybody seems to call it Monkey Forest Road. There's few or no signs that say what it is, just everybody knows it.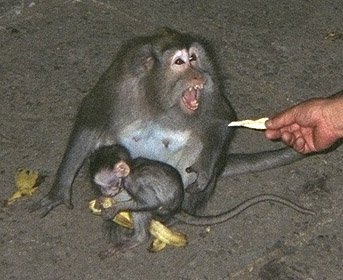 On one end is "downtown" Ubud, where the main temples and many of the stores are. Right in the center was the palace where I saw all of the Balinese dance shows I went to. Every night of the week there was a different show, and they all cost 7,000 rups, about three bucks. I went almost every night.
On the other end is the Monkey Forest. There seemed to be some confusion, one guide book I had showed the monkey forest but in a slightly different location. The guy behind the desk explained that there's really FOUR monkey forests in Bali. This was one of them.
Some of the monkeys can get nasty, not unlike bears in Yosemite. If they know you have food, they'll try to get it. Usually there's a guy in the park with banana pieces that you can feed to the monkeys.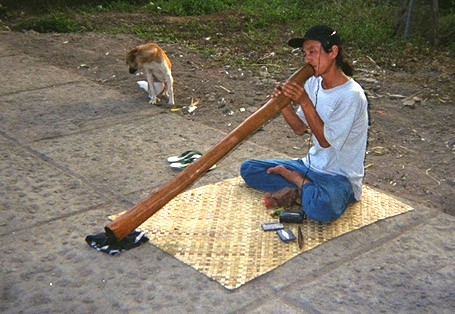 If you go behind the monkey forest, just keep following the path, there's a temple. Right across from the temple I saw this guy playing music one day.
If you keep on going, you get to a road along which are a lot of woodcarvers. A lot of the carvings I bought came from this area.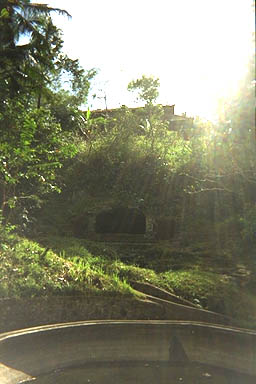 One time I took a tour. All the Hindu temples all looked the same. But this one seemed different.


Emails
I ended up returning to Ubud as my base of operations throughout my vacation in Bali and Sulawesi. I think I stayed in four different hotels in that town. I bought wood carvings, I bought film, I got lost, I did the cybercafe thing. I exchanged lots of email with people. The rest of this web page is emails, somewhat unedited.
When I get rups, it's like 2425 or 2440 to the dollar. I just saw an arcle, the rupia has dropped to something like 2600 or beyond to the dollar. whew.
---
Irene, July 18

Irene Hauke wrote:
> 
> Hi Allan,
> how are you, I hope you could get back to me very soon, since I have all this
> questions to answer regarding your Health Insurance. The best thing would be
> that I could fax you the application.
> Is there any place you could do something like that?
> I hope to hear from you asap.
> Take care,
>  Irene
> 
> Waterloo Maple Inc.

hmmm... sorry.  There's no cybercafes in Sulawesi, none that I found. 
Until the very end. The last day there was one, but I had no cash at
all, maybe about six bucks, and it was Mohammed's birthday (july 17) and
all the banks ... and all the BANK MACHINES were closed.  And I had just
been on these islands with no services.  Like what you had for dinner
depended on what fish they ccought that day at the hotel.  A real far
cry from civilisation.  

OK if you want to fax something to me you can try this place, I'll be
going there maybe in a few days or a week.  

Cafe Trio, Petulu, Ubud, Bali, Indonesia.
+62 361 976710   fax
trioglobex@denpasar.wasantara.net.id you can email them if you have
problems.  I'll try to get there and fill it out and fax it back. 
remember that they are 11 hours behind (really what... 13 hours ahead)
of you.

email with joie

> >> Just wondered where you were?
> >
> >lost in sulawesi.  Saw animal sacrifice.  Ate way too much rice and
> >fish.  Did scuba.  Slept under the stars on the roof of a bucking ferry;
> >almost got seasick like everybody else.
> 
> Bucking ferry?   Conjurs up all kinds of images :)

No no, a boat.  With a roof.  It was too crowded below.  But of course
you're protected from rain, and from falling off the boat...

> >> Just let me know.
> >
> >yeah, I guess you can use whatever I sent.
> 
> What did you "sent" me?

Hmmm... well I sent many emails to you and a lot of them bounced.  But
you're replying to themm.....  hmmm... I'll be abler to sort it out when
I get back.  

> Alan, I would like to showcase your entire report on CSN....with pictures,
> of you, of your trip...big time.  Crap I wish I had something by
> Monday....any way you can get me something?  Everyone in the friggin world
> is coming to the launch...it's so cool

monday (sheepishly) you mean a few days ago?  hmmm... photos are
developed and in my pack.  Some of them.  Others are undeveloped in my
mailbox in corte madera.  No, I had them sent to my girlfriend in
Sunnyvale.  

> Where are you writing from now?  I am in an IRC meeting with our associate
> editors right now.  Alan....I might be the Editor in Chief (equity position
> naturally) of the world's first cyber cafe/entertainment magazine....hard
> copy, and we are looking at offices in UK, USA and ASIA...so you are going
> to be my official cute traveling engineer foreign correspondent.....starting
> now.

well, ok, I knew I should have brought my laptop.  I was thinking of
bringing my newton, but that would have been tooo  too...

> Gotta run.  I will be in and out of e-mail for the next 6 hours...we'll be
> up all night.

good luck.  You know the pace is really diffent here.  I think there's a
bunch of people here waiting to use my machine.  Not sure.  There's just
two machines here at the Trio Cafe in Ubud, Bali.  You know you wait for
hours for stuff around here.  

I think the only two cybercafes in Bali that are worth anything are Trio
and Bali@Cyber.  The telecom offices suck; they don't get it what you
want to do with email.  

> Great timing...good to hear from you.  Hey, I have a great friggin
> idea...any chance you can get in my IRC now?????? I have my own channel on
> the undernet...any chance?  Let me know and I will give you the coordinates.

Now.  Now is 13:04, Bali time.  I think that makes it like 9pm in
california.  I only get toa cybercafe like once every five days or so.  

I'll be back up to speed in early AUgust.  My plane reservations back
are not yet solid....


ging
july 23

>Tell me about how you've gotten your clothes
> clean, 

I started out mostly trying to do it in my hotel room, frequently as I
shower.  Then you hang it up somewhere and wait for it to dry. 
Different tricks for drying them quickly.  

Then I started using the hotel service.  In an expensive hotel they
charge too much.  But one place I stayed at charged me $2 for a whole
(small) bag of laundry, like three changes of clothes.  So I'm trying to
keep on doing that.  

>and another story about something scary, 

see other email

>and a little about the
> strange bugs you've encountered, 

there was a roach in the bathroom last night, but I washed him down the
drain.  

>and the best artwork or architecture you've
> seen!  

Bali.  If you want a cheap place that's beautiful and people speak
english well enough, go to bali, and go straight to the city of Ubud. 
That's where I'm staying right now.  You have3 to shop around for the $4
a nite places; $8 or $10 is more common.  And if you just go to a place
that looks nice you might end up paying $30 or $50 or more, easy.  If
you want to pretend you're in america, it'll be expensive.  You tolerate
less and you save a shitload of money.


---
joie, the cybercafe guide person, July 18

To: joie 
Subject: Re: some updates to your asia page

joie wrote:
> 
> Hi Allan,
> 
> Just wondered where you were?

lost in sulawesi.  Saw animal sacrifice.  Ate way too much rice and
fish.  Did scuba.  Slept under the stars on the roof of a bucking ferry;
almost got seasick like everybody else.  

> I am still laboring with webmaster in preparation for launch.  What a project!
> 
> I would love to include your "stories" about the cyber cafes in Asia as part
> of the launch articles.
> 
> Just let me know.

yeah, I guess you can use whatever I sent.  I'm not really well prepared
to do any editing or revising. I'm not carrying around any floppy disks
or anything.  Whatever is on my mail server, that's the info I have,
plus notes I write down on the paper that I forgot to bring thisx time.  

I tell myself I'll have time to sort this all out later and write up my
grand trip report.  And I plan to write up some sort of article on
cybercafes for travelers; I won't have everything in the world but a lot
of my impressions, being a user.  I should be flying back the last few
days of July.

As I copy and paste this into its proper html file, it's November, night before Thanksgiving. Took way longer than I thought.
---
My dad, July 18

George Bonadio wrote:
>         Remember, you want an air conditioner which is "not recommended"
> for your size house and hot water use and family and insulation and so on.
> AFTER they show you what size you need then you insist on the next smaller
> size.  They are sellin cooling.  You want dehumidification.  

You know out here I've sortof acclamized. I don't get hotel rooms with
air conditioning any more.  It seems strange and it makes it harder to
be outdoors, which is where everything is anyway.  And people actually
catch a cold from AC out here.

---
joie, july 23

Subject: Re: news from sulawesi

jumat what the hell is jumat... I guess it's thursday.  

joie wrote:
>  Did you get back to my friend's place in Bali?  
[she's talking about cyber@bali, the cybercafe in kuta beach]

yeah, that's where I sent from.  Such a nice peaceful place.  But you
know it's all a phone link.  Just like here in Ubud.  So there's fucking
around to get on the net, and if you and the other people using it are
quiet for a while the line gets dropped.  And, if you try to get email
at 5pm +- 1 hour, just forget it.  The morning is good.  

>If you want I will arrange
> for all your time on-line for free....I will call them immediately, they
> will roll out the carpet for you....for christ's sake you are a CSN foreign
> correspondent....I will get you anything you want in the cyber cafe....food
> even :)

Free food?  Cool!  

> I am here for about 5 hours....

yeah, this concept isn't working...  maybe if I had my own laptop and a
service provider on the island here...

---

joie wrote:

> just keep writing to me.....I will get it in.....

ok just to warn you the long story about my birthday, it's just a story,
there's no cybercafe stuff.  There's really very few computer oriented
things in bali.  They do all the semiconductor stuff on Java.

---
my brother, july 23

Steven Bonadio wrote:
> 
> So where are you?  How is Indonesia?
> 
> Steven

I'm in a cybercafe in ubud.  If you go to bali, go straight to ubud. 
That's what I didn't do.  But anyway.. see other email for story.

---
[1997 girlfriend], july 23

> 
> you're not coming back until the 31st now?  That just sucks so bad I can't
> tell you.
> 
> I was actively expecting to see you in a couple of days.

damn, I thought I sent you email or left a message or something.  

Well it's the 23rd today.  I'll be back soon, I promise.  

(I'll be a little bit grubby too so keep the garden hose handy.)

---
I got this from someone. Seemed singularly inappropriate.

Received: from server4.onmedia.com (gpdev0.goplay.com [199.74.206.143]) by shell10.ba.best.com (8.8.5/8.7.3) with ESMTP id OAA13752 for ; Fri, 18 Jul 1997 14:24:21 -0700 (PDT)
Received: (from root@localhost) by server4.onmedia.com (8.8.5/8.7.3) id OAA27041 for allan@nbn.com; Fri, 18 Jul 1997 14:15:04 -0700 (PDT)
Date: Fri, 18 Jul 1997 14:15:04 -0700 (PDT)
Message-Id: <199707182115.OAA27041@server4.onmedia.com>
Sender: GoPlay Cards 
From: GoPlay Cards 
Reply-to: GoPlay Help 
Subject: Somebody sent you a GoPlay card!
To: "allan bonadio" 

Hello from the GoPlay postmaster!

A greeting card has been sent to you from someone special!

To pick it up, double click on the URL below:

http://www.cards.goplay.com/cgi-bin/card.get?CARD_ID=000000OsBl00Opzpp05cSma3

If your email isn't letting you click on the URL, then go
to http://www.cards.goplay.com and type in:

Number: 12369304
Password: 4100202


---
Postmaster at http://www.goplay.com
For help, call (408) 260-3300 or 1-800-61MEDIA
12369304/1.1 12-11-1996

---
my sister, july 23

Bonadio, Sylvia wrote:
> 
> happy birthday. sounds like an ideal day.  Hope you got to Ubud, but if
> not, next time.
> Sylvia

actually i'm emailing from ubud.  This is the third time I've gotten
here.  It's really nice, and so many neighborhoods to explore.

What kind of wood carvings do you think mom would like?

---
Irene, july 28

Irene Hauke wrote:
> 
> Hi Allan,
> It sounds like you have a great time out there.
> You should write a book about your travel experience.

working on a website.

> I guess soon its time to come back home again.

in just a few days.

> In regards to your Health insurance, Waterloo Maple has paid to Employers
> Health Insurance the premium up to July 31/97. First they told me that a single
> person could no longer continue the insurance. But later in the month I
> received a Statement and I paid the July premium. Sofar I have not heard
> anything in regard of canceling the July premium and as soon as I could see
> that the cheque was cashed your coverage for July would be OK.

hmmm probably if I got sick they'd decide that it was all invalid. 
Well, it's expiring in a few days anyway.  

aren't you glad you're canadian?

> 
> In the meantime I was looking for a replacement Insurance you could
> participate. I did find a company who would have given you a interim Health
> insurance coverage but there were to many questions I could not answer. I will
> sent you all the forms and you could take a look and see if your interested or
> maybe you have chosen already a insurance company.

OK, thanks!  I'll read what you have, but honestly i might just bag
these insurance companies.  They have something like an RRSP for health
insurance out here, might check into that.  These insurance companies
are worthless. 

Thanks for all the legwork you put into this!

---
friend, july 28

> Thought I'd try one o'these
>                            on-line greeting card thingys.
>                            Today is your birthday. I
>                            remembered.
> 
>                            J. 

Thanks!  That was sweet.  

Actually when I got it there was no indication it was you so I blew it
off but they sent another email.

See you Wednesday nite.