The Gorontalo Boat
Life was probably as rustic as it'll be this entire trip. In the Togians, I had a beach front bungalo. That's the good news. The bad news is that the food was really really limited. I'm not going to eat fish for a week. I'm only reluctantly eating rice. A 3rd world experience.
The ferry north from the togians only ran once a week. Yep. They had another ferry, but it sank. Just sank. We ran into this danish guy who talked to some Danes that were on the boat when it sank. Maybe a year or two ago. Apparently only three local children died. But imagine all of your luggage getting soaked, and some of it getting lost forever.
That's where greg and I split up. He had to go (with a tourist visa you can stay in intonesia for only 60 days). So he stayed 2 days, I stayed 9 days. It was very relaxing after sitting in busses for days.
The ferry north was an experience. It was an overnight ferry. I had a reservation for a cabin bunk, but at the last minute I decided (everybody told me) that it would be hot and stuffy. And I knew I wouldn't sleep much. And boy the stars were beautiful that nite. Whenever I go camping, I love to sleep under the stars. Sure it's terrible when it rains; I never do it when it rains. Well, once in Wyoming I did it when it was drizzling...
The stars were beautiful. Very few shooting stars. But I saw 3 or 4 satellites, can't remember... it got late. Once I saw two at once, they almost crossed in the sky.
So I decided to sleep under the stars, on the roof of the boat. There were more than a half dozen other people up there too, and people strewn all over every square foot of floor space, a boat like that. I knew a Dutch couple who were pretty experienced travelers. They got a piece of floor inside on the top floor (one below the roof). He explained how he started out with just enough for his buns, and then over time, people move around, not everybody hangs out in their claimed space, you ooze into enough space for yourself to lie down for the nite. He didn't use the word "buns", I can't remember what he said.
I considered sleeping on the floor near this couple, but I had a cabin. I spent all this time debating back and forth. We were on the boat for hours before I had to make a decision. The roof looked appealing, open air...

At the time I was trying to get some beer. The togians have a dozen places thick enough to be called "towns" and this boat visited many of them on its northeasterly. I went out at a lot of them hoping to find some place open to buy some bottles of beer. I'd ask somebody how long the boat was going to remain docked and then I'd go out for maybe half that amount of time. And always be careful - they WILL start the boat without me. The thought of existing without my pack and stuff was pretty scary, as it was jumping off the boat in towns I'd never been in before, but it was no big deal.
Well, on one of those trips I saw a tall American with dreadlocks - it was Dave! He had been staying on a different island, and now we were picking him up with his wife Julie. Somehow he ended up on exactly the same boat as me. Well, there was only one boat per week, after all. The tourists in this part of the world were so thin you could count them individually because all of them were on the same boat as you were.
The three of us decided to sleep on the roof of the boat. It's pretty much, roofing materal, with a few big things sticking out, like a fenced off area. There was no fence keeping us from rolling off the roof clean out into the water four stories below.
Well it got a bit more rocky and windy that I anticipated. In the middle of the roof there was a small area fenced off with strong pipe guardrails. I took my pack (two pieces - like two backpacks) and looped a sholder strap from each of them into this guardrail on the roof of the boat. So that even if the boat tipped a lot they wouldn't come off. Then I took my towel (which was what I was lying on) and my inflatable pillow and tied them all with a piece of rope I have, the only piece, I've gotten a lot of use out of it. So they were all tethered together, and that was good because if I just got up and walked away they'd start blowing away. It was very tricky.
The boat left the port a few hours before sunset. It took until well after midnight to get away from the Togian Islands themselves. I remember one town they stayed in from 12 midnight all the way to 2am. All in the same port. I was going crazy.
I couldn't sleep so I just watched these guys unloading big sacks of something, probably rice or something in these big burlap bags. and then loading on a bunch of big sacks. Two hours. Finally we were off again.
The night air was fabulous. I could stand up on the roof of the boat, like it was a huge surf board, wind in my hair, litterally. The boat was moving quickly to scare up a wind, but this was basically on the equator so it was refreshing to be cooled off like this. I saw aa number of flying fish, just sailing along beside the boat. It was thrilling. I wished that my camera could have taken moonlight pictures, but I knew better.
On the other hand, the bucking of the boat was hard to handle. A lot of people were getting sick on the boat.
I woke up in the morning, and I'd spent the nite just one meter away from the edge. no guardrail, no nothing. The more the boat bucks, the less you feel like walking close to the edge.
Suddenly I woke up and the sun was up and it was bright. The boat was still cruizing full speed ahead.
I got up and started wandering around the boat. I could walk to the front of the boat, that seemed to be the nicest place to stay.
We were supposed to get there in the early morning, but you know everyone you talk to has a different story. We ended up getting there about 1pm. People were getting seasick. I kept concentrating on the horizon. Whew.
I had wanted to spend time in Manado, some volcanos and stuff, but I couldn't change my plane reservation. I flew out the next day. Today. Now I'm back in Bali, which is good because it has services I desperately need, like laundry, banks, stores, etc.
email with Pete


> Have you had some exciting bus adventures?  Like - a study in going slow for
> survival's sake?

i've got a rrentacar now.  

The most packed bus I was on was a bemo in Sulawesi.  It's minivan
sized.  There was 18 people in it.  I couldn't even see two of them;
children hidden behind something else.  There was luggage too.  In the
states you'd fit 9 people in and "all the seats would be full".  

> Hey - can you get a cup of coffee in Sulawesi?  Is it good?  (Is there some
> place called Kalosi around there?)

yeah every day for breakfast.  Somebody described it however as "cowboy
style".  THe cool coffee is saved for export.  The locals drink shit. 
But at Moma Siska's place she was growing her own coffee and stuff,
drying it herself.  But there ain't no espresso machine, there ain't no
electricity or running water either.  

You're drinking the best coffee available.  

> Does Sulawesi mean south west somehow?

nope.  not that easy.  Lonely Planet says:
sula (island) besi (iron).  Well my Malay dictionary said that "sula" is
a stake, but besi is in fact iron.  It's probably from some local
language on the island, probably the Bugis, they traveled a lot on
boats.  Boogie men.  "Island" is "Pulau" in indonesian/malay.  

...

I guess these days i don't have many frustrations.  Traffic in some
places here can drive you upa wall though.  Yesterday this truck
wouldn't let me pass.  The excuse was that the road had potholes so he
was drifting to the right all the time.  I did'nt pass him till he got
to where he was going.  

> For instance, I thought about the 2 to 4 second interval between cars
> thing...  and for the most part - you could not get all the cars on the
> highway at once if everyone adhered to that standard!

not everybody drives at once.  Except maybe rush hour.  I just try to
avoid it.  

> Therefore, my question must be:  HOW CROWDED is it there???  The bus
> situation sounds heavy.  The stuff in the middle of Sulawesi sounds really
> cool (I have a Sulawesi coffee sticker on the front of my computer!)

Sulawesi is not coffee.  Just like california is not surfing.  

How crowded.  Depends: indonesians?  Tourists?

If you want to get away from tourists, you have to invest a lot of time
and effort riding busses on rugged roads to get to simple villiages. 
Once you get there, you're ok, but you still need supplies from the
outside world.  The more you are willing to put up with, the more
tourists you'll eliminate.  Just like backpakcing in the sierras.  

To get away from indonesians and other natives, you have to go to really
inhospitable places.  Where there's no freshwater.  Yeesh.  But lots of
places the indonesians are sparse.  The countryside.  There's some
places in Bali like that.  Just look for the roads with lots of
potholes.  

> I've seen pictures of coral reef - it is beautiful!  

realy is

This guy had a field guide to all the lifeforms.  There was 25 chapters,
on on each kind.  one chapter was on 'plants'.  One was on 'fish'.  Two
or three were devoted to corals.  One was devoted to starfish.  But
every other chapter was on a differnt KIND of lifeform.  Amazing.  

>Actually there is a
> picture on my wall that probably looks vaguely like some of the places
> you've been (of course, I can only guess!)  

it's just like the pictures. except it's moving right in front of your
face.  

>Must be incredible!  Do you get
> really close to the fishies in the water?  

if you try to touch them they swim away, but they're swimming all around
you.  Whole schols swim by.  

>Are they afraid of the big human?

Some of them are, but you'd be surprised.  They have good evasion
mechanisms; they do ok.  

> Or do they not even notice you?  

They notice if they're not fast swimmers.  They get away or crawl into
someplace.  

>Have you seen any Dolphins?

dolphins or porposes. not sure.  Just from afar.  

> Do you have a camera???  will you bring us pictures???  

i was using a disposable until I found myself going through about five
per week.  Now I have a cheap 35mm, and get disposeables for special
purposes like the underwater one.  

>it was a cool
> postcard - Wendy and I got a laugh out of it (hoping you really were
> enjoying the 'life in a collander' effect!)

I've sent dozens of postcards so far.  I got two to mail today.  I've
sent three to you alone.  

> Have a great time!  and I'll look forward to hearing all about it when you
> get back!

i'll work on my website.

> ps - the software industry is still here.  bill is still evil.  intel is
> still evil.  Apple is still alive.  Tim still sends abherrant emails asking
> weird questions about pc abuse once a year.  CA is not bankrupt.  Oh yeah -
> and it is still foggy in the sunset...  

good

>I look out there everynow and then
> and think - gee somewhere on the other side of this little Pond (and a fair
> bit south?) Allan is adventuring in the great wilds of the other half of the
> known universe!  Have fun!

fuckin 8 timezones away.  Thanks!  See you in August!


email with Gingrich


John Gingrich wrote:
> 
> Allan,
> 
> >>we don need no stinkin sanitation
> Yes, but  jew do need sum stinkin' matches -- to light the smokin' fire to
> guard against the stinkin' sanitation problems.

it's amazing.  I've never had to boil anything myself.  They boil
drinking water (more often you get served tea) or else you buy a bottle
of water.  

Other sanitation problems, .... I haven't gotten sick yet.  (except that
one time...)

> You have taken me on a marvelous journey with your recitation of the steamy
> jungle, the people, the smells, the sights, the food.  Very cool!  'C'aint
> wait for your web site rendition.

that's what I want to do withthe website.  Take people there.  I'm
having fun, i spent time thinking about how I'm gonna write all this
up.  I'm gonna talk about stuff that is maybe uncomfortable.  That's
part of the experience.  

> What illicit things have you been offered on your travels?  

sex
drugs
littering
scuba diving below 30 meters

last night I think I was in a sortof gay district.  This guy tried to
lead me into a construction site at nite.  I was looking for "bir
bintang" - the local brand of beer is "Bintang" which means "star". 
Maybe it really was a shortcut but I walked away and wouldn't look
back.  One of the few times I was really afraid in indonesia.  These
people are really friendly.  

>How much longer
> will you be there?  

I think two weeks.  Things are a bit upm in the air though.  It's
tourist season and most flighyts are booked solid.  

>What emotional states have been floating through your
> psyche (typical shrink question, but I'm interested in what you're feeling
> as you travel the exotic lands)?

funny you ask that... I've been trying to get myself to feel more.  So I
didn't bring along a book.  When it's 2am and the ferry is sitting in
the doc for yet another hour, and these guys are unloading rice, I just
watch them.  And I be with myself.  Maybe I haven't done that enough.  

I feel a lot of frustration.  I just went the last 3 weeks without going
to a bank to get extra cash.  Today was Mohammed's birthday and it was
the first day I was back and all the friggin banks were closed.  I was
pissed.  Fortunately in the airport, this one banc machine finally
worked and now I have cash.  Shit, I was down to about 35,000 rupiahs,
what's that like $12?  My hotel last night cost 33,000.  stupid, I
should have gotten the room for 22,000 but I was so sick of the place on
the islands I just wanted a nice place to relax.  It's usually pretty
easy to get a place for 10,000 or 15,000.  

One place greg and i stayed was 5,000 rups a night - that's like two
bucks!  We each had our own room, nice sized room, shared bath but each
of us had nobody to share with.   

The beach bungalo cost like $7/day, 3 meals included.  But the meals
were like rice, fish and vegetables.  Healthy, yes.  But pretty
monotonous.  And often the fish was like one or two whole dead fish,
just cooked up, with the head and stuff.  

> More, write more, take me away from my ordinary life, take me to SE Asia!

it's not all nice.  You ever go to the bathroom in a mandi?  I got used
to it.  Imagine no running water.  You have a tub, that's your water
supply.  The mandi.  And there's a dipper to dish out the water with. 
Next to it is a squat toilet.  NO flush, you just take dipperfuls of
water and pour it down the drain.  And in front is a floor, drainage at
the lowest point.  To take a shower, pour dipperfuls over yourself.  Hot
water?  hahaha.  It's so fuckin hot here, the cold water is refreshing. 
In some places, the water is kindof hazy, kind of silty.  Not unclean,
just... well you never drink mandi water.  You buy bottled water.  How
much... 1500 rups for 1.5 liters, that's about 60c.


---
Pat Ford, July 18

To: Patrick Ford 
CC: friend at powertv.com

Subject: Re: Tyson vs. Holyfield

Patrick Ford wrote:
> 
> It's on for 6:00pm tonight at my place:
> Come by, bring a friend.

well as you can guess I was on a tropical island.  

I didn't see it but everybody else around here did, all the locals.  For
a week afterward it was like:

them: Wherre you frrom?

me: Amerreeka.

them: Ah, Mike Tyson!!!  (Then they would make a knashing motion with
their teeth.  And everybody in the room would laugh. )

---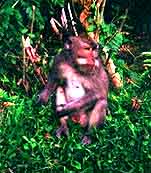 A Forest Man. No, I guess this is a baboon.